Dog food brands most linked to heart-disease reports named
U.S. FDA tallies 560 dogs affected since 2014
VIN News Service
June 27, 2019 By Edie Lau; Lisa Wogan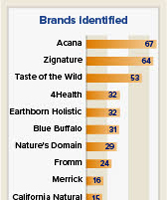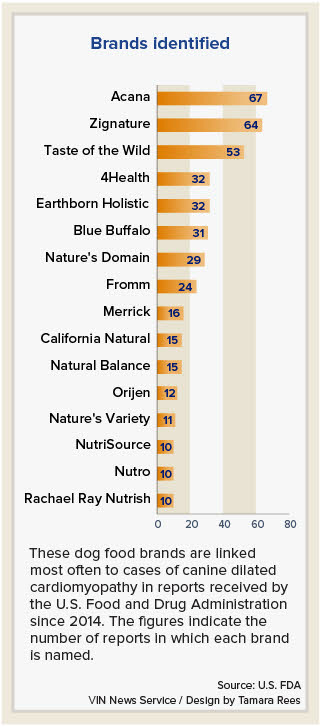 The U.S. Food and Drug Administration today for the first time publicly identified the pet food brands most frequently associated with cases of dilated cardiomyopathy (DCM), a serious and potentially fatal heart disease. The vast majority of cases involve dogs, but a few cases involving cats have been reported, as well.
In an update on its investigation into the potential link between certain diets and canine DCM, the FDA listed 16 pet food brands that have been named in 10 or more reports of the disease.
The top three brands are Acana, named in 67 reports; Zignature, named in 64 reports; and Taste of the Wild, named in 53 reports.
Starting in 2014 and through April 30, 2019, the FDA has received reports of 560 dogs and 14 cats diagnosed by veterinarians to have DCM. Of those, 119 dogs and five cats have died.
Not included in the figures are counts from "the many general cardiac reports" the agency received that did not involve a diagnosis of DCM. "However," the FDA said, "this case information is still valuable, as it may show heart changes that occur before a dog develops symptomatic DCM."
DCM is a condition resulting in an enlarged, weak heart that cannot pump blood efficiently. Dogs with DCM may tire easily, cough and have trouble breathing. More dramatically, they might exhibit sudden weakness, collapse, faint or die with no warning.
The large majority of reports received by the FDA were made in 2018 and 2019. The agency has been investigating the problem since last year. It announced in July that it had learned of cases of DCM in dogs eating certain pet foods, many labeled as "grain-free" and containing as main ingredients peas, lentils, other legume seeds (known as pulses) and/or potatoes.
While particular dog breeds are known to be genetically predisposed to DCM — breeds such as Doberman pinscher, Great Dane, Newfoundland, boxer, Irish wolfhound and cocker spaniel — many of the affected dogs were not of those breeds. That is what caught veterinary cardiologists' attention early on.
The cause of the problem is unknown, and most researchers investigating the problem suspect the answer won't be easy to identify. The FDA cannot say with certainty that diet is the culprit, although in an investigation update posted in February, the agency reported that some dogs diagnosed with DCM improved simply by changing their diet. Other investigators have reported similar observations.
At that time and again today, the FDA said: "Based on the data collected and analyzed thus far, the agency believes that the potential association between diet and DCM in dogs is a complex scientific issue that may involve multiple factors."
Because of the uncertainty, the agency has not asked the companies behind the implicated brands to recall them. "We have shared case report information with these firms so they can make informed decisions about the marketing and formulation of their products," the FDA wrote in a Q&A on its canine DCM investigation.
The agency added, "We are also sharing this information with the public, but encourage pet owners to work with their veterinarians, who may consult with a board-certified veterinary nutritionist, prior to making diet changes."
In analyzing ingredients and ingredient proportions of the identified diets eaten by affected animals, FDA researchers have found that more than 90% of implicated products were "grain-free," meaning they did not contain corn, soy, wheat, rice, barley or other grains. Ninety-three percent contained peas and/or lentils.
Early on, some veterinarians investigating the problem posited that novel animal protein sources in diets, such as kangaroo, bison or duck, might be a factor. But in its latest update, the FDA reported: "The most common proteins in the reported diets were chicken, lamb and fish; however, some diets contain atypical protein sources such as kangaroo, duck and bison. No one animal protein source was predominant."
The FDA said most of the identified foods in the canine cases are dry formulations, but not all. There also are raw food, semi-moist food and wet foods reported.
A representative from one company owning a frequently implicated brand expressed concern about the issue while questioning the premise that its formulations could be culpable.
Dr. Alexia Heldman, director of veterinary affairs for Diamond Pet Foods, which owns Taste of the Wild, said in a telephone interview, "Over the last year, there have been a lot of theories …. Where we are now, there are more questions unanswered than there were a year ago."
Heldman said Taste of the Wild is the largest brand of grain-free food, noting that 29 million bags have been sold in the U.S. since September 2017.
She said that 53 reports of disease cases should be considered in the context of sales. "If the numbers were presented as a percentage of bags sold, we would be at the other end of the list," Heldman said.
At the same time, the numbers aren't inconsequential, she said. "I certainly want to make sure we don't in any way minimize what those pets and pet owners have been through."
Heldman has taken some of the calls made to the company by affected pet owners. "It is devastating. My heart really does break when I talk to pet owners. I and everyone else at the company really hate that this is happening."
Heldman noted that Taste of the Wild formulations have been largely unchanged during the past four to five years. "[H]ow did this come out of nowhere?" she wondered.
The FDA wonders the same. "Another puzzling aspect of the recent spike in DCM cases is that they have occurred just in the last few years," the agency wrote in today's update.
It noted that formulation is not the only possible variation: "The FDA is working with the pet food industry to better understand whether changes in ingredients, ingredient sourcing, processing or formulation may have contributed to the development of DCM."
Diamond Pet Foods encourages veterinarians and pet owners who have questions or concerns to contact them, Heldman said. The company number is 800-342-4808. "We take meticulous notes, because we want to share with everyone, especially the FDA, anything that we can do to help potentially figure out what is truly going on," Heldman said. "It's a top priority."
Similarly, Pets Global, owner of the Zignature line, said in a prepared statement, "Ensuring the health of all our pet customers continues to be our top priority."
The statement also says in part: "While the vast majority of our customers thrive with our high quality, grain-free pet formula, we are taking the FDA's recent announcement very seriously. As such, we have created a dedicated customer care line (888-897-7207) so we can understand more to further ensure the safety of all pets. As the FDA said in its release, it still does not have enough information to fully understand these cardiac issues. Any pet owners or veterinarians who have information on this matter are strongly encouraged to contact our dedicated customer care line backed by our team of veterinary experts and nutritionists."
Mike Fuccillo, a spokesperson for Champion PetFoods, which owns Acana, the most frequently named brand on the list, and Orijen, another brand on the list, said the company had no comment.
Jennifer Fiala contributed to this report.
URL: //news.vin.com/doc/?id=9164603
Feature photo courtesy of Bob Seagal