Veterinary Practice News
When amputation is not an option, please don't go straight to euthanasia
March 12, 2019 1:00 pm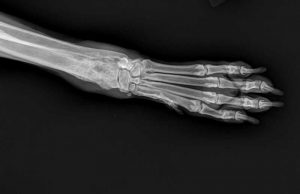 When a patient is diagnosed with osteosarcoma, we tend to focus on three options:
• the "gold standard," i.e. amputation with or without chemotherapy;
• what many call palliative care, meaning pain medication and rest; or
• euthanasia.
But what if amputation is not an option? What if chemotherapy or radiation is out of the owner's financial capabilities? Or a couple of medications are not enough to numb the pain? What if visible metastasis to the lungs is already present?
Bob Stein, DVM, pain management guru and founder of the Veterinary Anesthesia & Analgesia Support Group (www.vasg.org), recently shared another valid option.*
"With my suggested approach, we can often provide quality of life to even large-breed dogs for six to 12 months and sometimes more than 20."
Let's detail Dr. Stein's protocol.
Pamidronate
Pamidronate, a bisphosphonate, is an injectable drug that is inexpensive and easy to administer (ref: TM Fan et al. JVIM 2007). It helps to reduce pain (in 30 to 50 percent of patients), inhibit bone osteolysis, and has potential cancer-suppression effects by impeding proliferation and inducing apoptosis. The drug has a wide safety margin and can even be used on patients with renal or liver insufficiency. While side effects such as esophagitis, allergic reactions, and gastritis have been described, Dr. Stein has not yet observed those adverse effects at his practice. Note: If pamidronate is backordered when you read this, use zoledronic acid instead.
NSAIDs
NSAIDs are a mainstay in pain management, but they are not particularly well suited to the management of bone cancer pain. Dr. Stein hopes NSAIDs can contribute, but consistently utilizes them for their antiangiogenic, cancer-suppressant properties. They also help with pain related to degenerative joint disease (DJD) in other limbs and discomfort related to weight shifting.
Tramadol
Tramadol has been shown multiple times to be unpredictable and, generally speaking, ineffective when managing canine pain, so we won't dwell on it. When reaching for a reuptake inhibitor, Dr. Stein chooses amitriptyline or duloxetine as noted later in this column.
You May Also Like
5 Questions With… Matthew Croskery, DVM, hospital director/owner of Oakpark Pet Hospital
Gabapentin
Several studies have been conducted to prove the effectiveness and safety of gabapentin. Like amitriptyline and duloxetine, gabapentin is better suited to bone cancer pain than NSAIDs. Initially used to treat seizures, gabapentin treats pain by blocking calcium channels. Patients with osteosarcoma receive a starting dose of 10 mg/kg three times daily, but Dr. Stein increases the dose as rapidly as tolerated to as high as 60 to 70 mg/kg three times daily. Due to gabapentin's nonlinear pharmacokinetic profile, it is very difficult to overdose gabapentin, but you can see lethargy and sedation if you increase the dose too quickly.
Trazodone
Our patients are unaware they have a life-threatening disease. If their activity needs to be slowed down, prescribe trazodone. It doesn't play well with tramadol (yet another reason not to use tramadol), but works well with gabapentin to provide safe and effective sedation. Use with caution, if at all, when utilizing a reuptake inhibitor like tramadol, amitriptyline, or duloxetine.
Cymbalta
Cymbalta (duloxetine), a serotonin reuptake inhibitor (SNRI), has been shown to provide pain control by increasing serotonin in synapses. Care must be taken to ensure there are no drug interactions with other medications, such as aspirin or over-the-counter supplements the patient may be on.
Amitriptyline
Amitriptyline, a tricyclic antidepressant, can be used to treat neuropathic pain via a broad variety of mechanisms. Unlike tramadol, amitriptyline can be effective when dosed twice daily. Doses as high as 3 to 4 mg/kg twice daily may be required for peak analgesic benefit.
Amantadine
Initially used as an antiviral medication, amantadine is a N-Methyl-D-aspartate (NMDA) receptor inhibitor. It can disrupt the nervous system response to prolonged pain signaling. Also showing evidence of chronic osteoarthritis pain alleviation, this drug can be used for relieving osteosarcoma-related pain.
Food
What we feed a cancer patient is more important than most pet owners realize. Food can either "feed" the cancer or help "starve" it, while boosting the immune system. Prescription diets for cancer patients offer:
• Low levels of carbohydrates (sugar is blamed with "feeding" cancer cells)
• High levels of protein, fat, and omega-3 fatty acids
You May Also Like
Conservative treatment options for partial and complete CCL tears in dogs
Weight control
Weight control is critical in cancer patients. Many veterinary professionals believe weight loss and cachexia are a classic consequence of cancer. Until the disease takes over, being overweight is a far greater risk. Quite often, the owner feels bad for their dog's fate and tends to use food to offer comfort. Sadly, extra weight puts extra pressure on joints. In addition, adipose tissue releases cytokines that can exacerbate a multitude of inflammatory processes, including DJD, which can contribute to discomfort.
Weight maintenance or weight loss should be a critical part of the discussion regarding a cancer patient. Remember to include serial weight checks and follow-ups to tailor the food amount to your patient's needs.
Supplements
Glucosamine, chondroitin, injectable supplements, and methylsulfonylmethane (MSM) have been recommended to help with arthritis present in joints unaffected by cancer.
Omegas
Not all omega-3 fatty acids are created equal. There is a lot of over-the-counter junk. Proper manufacturing and conservation are critical to prevent the supplement from becoming rancid. According to Dr. Stein, docosahexaenoic acid (DHA) supplementation can provide anti-angiogenesis properties. Calculate the dose of various supplements with a free calculator located at http://www.vasg.org.**
Harness
Using a harness, such as Help 'Em Up, can help owners lift or support dogs with osteosarcoma in a back leg. It can also alleviate extra strain on the back end when a front limb is affected. An effective harness also reduces the likelihood the client will be injured while assisting their dog.
Physical therapy
As osteosarcoma progresses, weight shifting can cause strain to the other limbs. Physical therapy and massage can lessen the impact of the increased load.
Acupuncture, myofascial trigger point needle therapy
Needle therapy can be part of a multimodal program for pain control. Acupuncture has been shown to boost beta-endorphins, which are the body's natural opioids. Acupuncture also can help reduce chemotherapy-related gastrointestinal side effects, such as vomiting, diarrhea, and nausea. Myofascial trigger point needle therapy can relieve the painful contracture knots that often form when muscles are overtaxed or injured.
You May Also Like
True Leaf donation helps shelter dogs get adopted
Others
Countless other modalities, including Reiki, have been recommended to help fight cancer, along with all kinds of nutritional supplements. Claims include cancer growth inhibition and overall support. We will leave it up to you to pick and choose what you believe in. Working with a veterinarian who is familiar with these modalities is recommended. Laser, however, is not recommended anytime cancer is suspected or proven.
When amputation is not an option, please don't go straight to euthanasia. As Dr. Stein suggests, using some of the modalities mentioned here can significantly improve a patient's quality of life, as well as their longevity.
Phil Zeltzman, DVM, DACVS, CVJ, Fear Free Certified is a board-certified veterinary surgeon and author. His traveling surgery practice takes him all over Eastern Pennsylvania and Western New Jersey. You can visit his websites at http://www.DrPhilZeltzman.com and http://www.VeterinariansInParadise.com. AJ Debiasse, a technician in Stroudsburg, Pa., contributed to this article.
References
* VIP conference, April 2018, Cabo, Mexico (www.VeterinariansInParadise.com).
** http://vasg.org/drug_delivery_calculators.htm and bit.ly/2R7fDsL
Source URL: https://www.veterinarypracticenews.com/osteosarcoma-beyond-amputation-euthanasia/
Feature photo by Bob Segal, Illinois