Proper grooming techniques give a boost to your Gordon Setter's competitive edge in the show ring. Knowing how to accentuate your dog's best points by trimming him so they shine through can improve your win record. If you've seen Will Alexander in the ring with a Gordon you've witnessed that every dog he shows is beautifully presented, groomed to perfection. I've seen Will in action and have admired his skill for decades so I'm sharing the link to his course on Setter grooming with you. For a relatively low cost your subscription to the course will give you unlimited access to this self paced, visual grooming reference for as long as you like. Perfect your skillset with professional guidance!
Sally Gift, Mesa AZ
Click the blue link below and a new window will open taking you to the course. Don't let the English Setter fool you – Will knows Gordons and covers them too!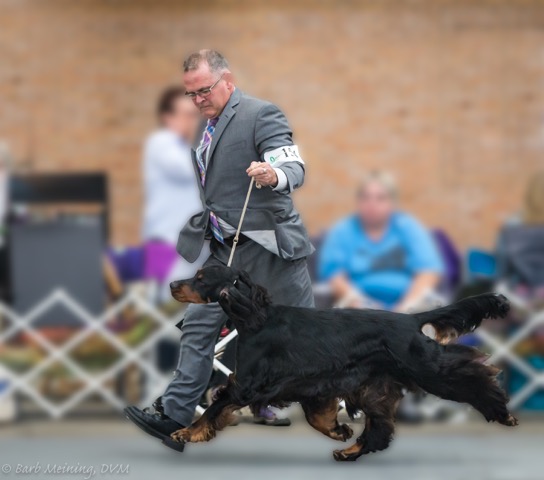 This course is an introduction to the basics of trimming all four of the setter breeds.
You will learn the subtle differences between the English, Gordon, Irish and Irish Red & White Setters.
From Clipper-work, to carding and raking you will learn skills that will be valuable to you no matter what your skill level.
You will learn when and where you should use various tools such as; thinning shears, knives, stripping stones.
Knowing why we are trimming hair off in different ways is as important as how to do it. Will explains how the setter's furnishings should be an extension of your setter's bone structure and how to create the most anatomically correct version of your setter through trimming.
Stay tuned as we bring you each breed in greater detail.
Your Instructor
Will's family bred and showed Irish Setters (his father still breeds them), and as a junior Will bred English Cockers. Will made his ring début at the age of seven with one of his father's setters, and from then on he was very active (and successful) in Junior Showmanship, and the breed ring, with a variety of breeds.
Will always wanted to be a handler, but before embarking on a handling career he worked for Garry MacDonald here in Canada, and for Bobby Stebbins in the States – gaining experience, honing his skills, and perfecting his craft…
Will started handling professionally in 1986, and in 1987, took the Irish Setter Ch. McCammom Impresario to Top Dog All Breed.
This also set a record as the youngest handler to have a Top Dog All Breeds.Will is one of only 5 handlers,
who has had more than one Top Dog All Breeds
Will has had a dog in the Top Ten All Breeds since 1991!
Will is often referred to as the "Wayne Gretzky of dog shows", Will is proudly Canadian and arguably the most recognized professional handler in Canada!
Will is now a published author, his book "For the Love of Dogs" was published in 2014.
Will had the honour of winning Best In Show at the Westminster Kennel Club Dog Show 2015
with the beautiful Beagle bitch, Am/Can. Ch. Tashtin's Lookin For Trouble, aka Miss P
Class Curriculum
The Topcoat/Jacket and Neck.